I have over a decade of experience using Anthropological methods in the fields of Applied Behavioral Analysis and Public Health.  This enables me to navigate complexity with a strong foundation in both quantitative and qualitative methods. As a UX researcher, strategist, and designer, 
I'm motivated and aim to elevate design and people. 
My family faced generational trauma. My parents had many issues they tried to rectify in having a family of their own. Unfortunately, the odds were stacked against us. As a family, we faced financial instability, homelessness, and other hardships. By 15, I left my home. Fortunately, my aunt and uncle took me in. 
As I searched for meaning, I took refuge in learning about others. It taught me about 
wicked problems
in a world where complexity exists as a byproduct of systemic issues.
As I gleaned insights, I learned of my relative privilege, a loving family, and I could empathize.
I have a deep well from which I can draw empathy in service of others. 
I believe everyone should have a seat at the table. I'm grateful for my perspective, and I put it to work. 
I remain principled to elevate others as they navigate obstacles on their paths.
My foundations in Anthropology equip me to effectively learn, communicate, and translate concerns to-and-from different stakeholders. When I notice systemic problems, I bring stakeholders together to enact change through learning, strategy, and action.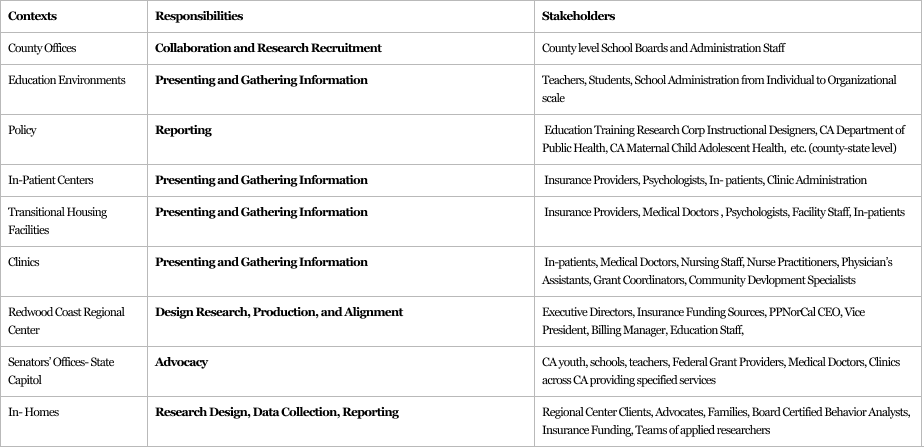 Human-Centered & Motivated Researcher and Designer
I'm motivated by curiosity, a desire for equality, and a scientific yet empathetic understanding of people. 
I understand 

Design permeates everyday objects, relationships, and systems.
This impacts real people, and structures how I craft thoughtful methods, products, and experiences. 
You may be wondering why I would change careers from psychology, to public health, and then to design and research. I'm a deeply curious nerd with a love of learning. Moreover, I want to scale my ability to impact others. Particularly, I'm interested in elevating design to include the historically occluded. As evidenced on my resume, I was designing before I realized what design was- tweaking and iterating on programs to be more inclusive and considerate of real human needs. 
In my free time, I recharge by riding my bike up big hills, appreciating plants and animals, volunteering, recording as a studio musician, cooking, tinkering with Arduino physical computing, working on cars, drawing, designing, re-designing, being a generally curious nerd who loves learning new things, and occasionally nothing at all!